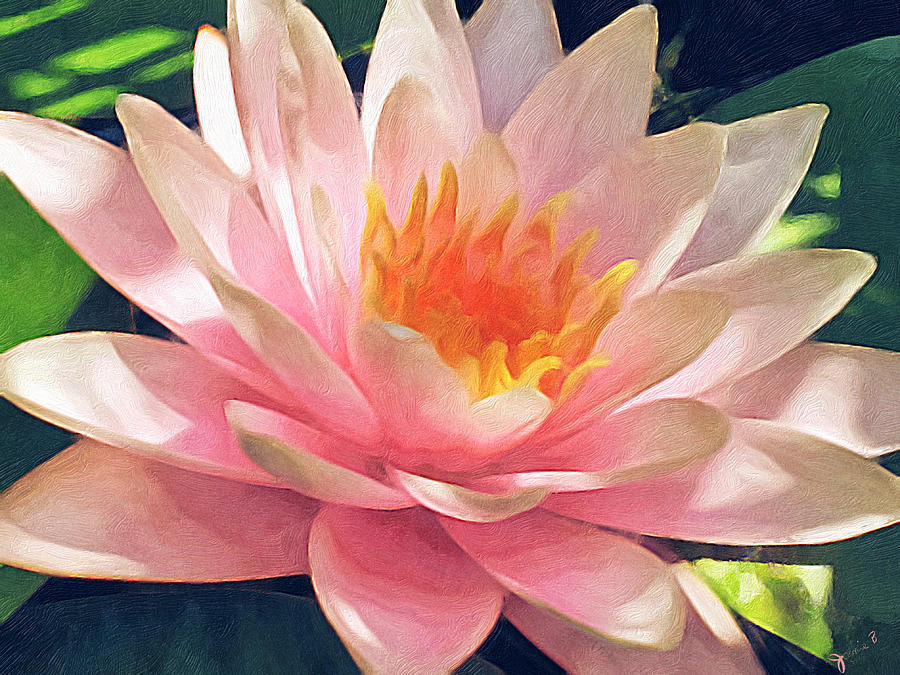 Medium
Digital Art - Digital Art
Description
In this luminous digital masterpiece, the viewer is immediately drawn into a world where a resplendent water lily takes center stage. With each meticulously rendered petal and every delicate nuance of color, this artwork vividly portrays not just a flower but a profound embodiment of hope and revitalizing freshness.

The water lily's presence in this composition goes beyond mere aesthetics. It transcends the visual realm and ventures into the realm of emotion and energy. Its radiant beauty resonates with the human spirit, evoking a sense of optimism and renewal. Each petal seems to hold a promise of a brighter tomorrow, a symbol of resilience and the potential for transformation.

What sets this artwork apart is its infusion with the gentle yet potent energy of Reiki healing. As you gaze upon the water lily, you can almost feel the subtle waves of Reiki energy emanating from its core. It's as though the flower itself has absorbed the healing vibrations and now shares them generously with anyone who beholds it. This infusion adds an extra layer of depth to the artwork, inviting viewers to not only appreciate its visual beauty but also to connect with its soothing and rejuvenating energy.

The visual symphony of colors in this artwork is nothing short of awe-inspiring. The vibrant palette dances across the canvas, with shades of pinks, blues, and greens blending harmoniously. These colors aren't just static; they seem to pulse with life, like a melody played by an orchestra of nature itself. It's a celebration of life's vitality, a reminder of the ever-present potential for growth and renewal.

In essence, this digital masterpiece transcends the boundaries of art, touching the soul and spirit of those who encounter it. It encapsulates the profound idea that beauty, hope, and healing are interconnected, and that through art, we can tap into the rejuvenating forces of the universe, allowing us to embrace life's ever-renewing vitality with open hearts and minds.
Uploaded
September 3rd, 2023
Statistics
Viewed 1 Time - Last Visitor from Monmouth Junction, NJ on 09/20/2023 at 9:05 PM